Fuel the Frontlines – Part 3
The frontlines of Miriam's Kitchen extends well beyond the walls of our kitchen, dining room, and nowadays—tent!
That's due in large part to the work of our Permanent Supportive Housing (PSH) and Advocacy teams!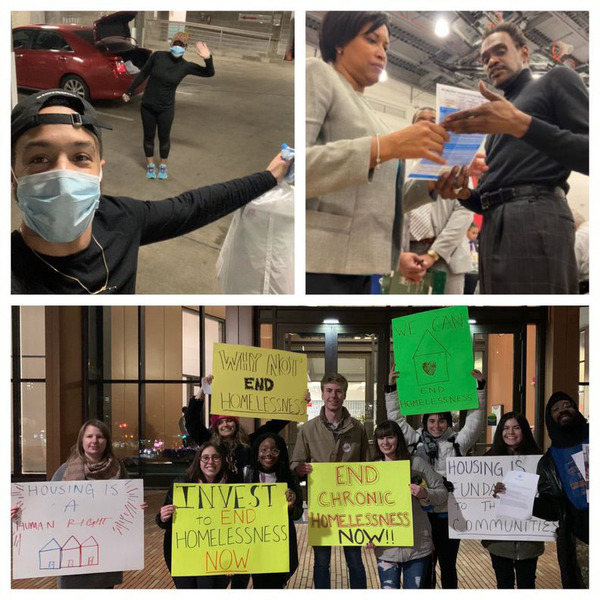 Clockwise: Jerod Lee, PSH Program Manager, provides a no-contact delivery of groceries and essentials to one of our senior housing residents so they can safely shelter in place. Tony Burns, MK Advocacy Fellow, shared our budget request with Mayor Muriel Bowser. The advocacy team in action in the community. 
To end chronic homelessness, we must help guests obtain and stay in housing. These days, "stay in housing" has taken on new meaning as PSH helps our residents shelter in place by providing no-contact deliveries of groceries and other essential items.
Meanwhile Advocacy helps identify and close gaps in the homeless services system—including in our crisis response—to make it more effective and efficient.
The pandemic has also underlined how housing is healthcare, and Advocacy is leading the way to call for the housing resources needed to end chronic homelessness in DC.
You can show some love for our frontline staff at Miriam's Kitchen by leaving messages of support here.
And if you are looking for a way to fuel the frontlines and support your neighbors in need, then please consider donating to Miriam's Kitchen.
Your support will go a long way in making sure staff and our guests experiencing homelessness have what they need to endure this pandemic.
Thanks to the generosity of an individual donor, you can get an early start and have your donation MATCHED (up to $10,000).
Know that your doubled donation to Miriam's Kitchen will be used immediately to:
Provide 300+ fresh, healthy, and delicious meals to-go to our neighbors every day;
Cover the cost of personal protective equipment, ensuring that our guests and frontline staff remain safe in the face of COVID-19; and
Lift the voices of our guests so that they can be a part of the change that seeks to end chronic homelessness in DC and ensure that everyone has a safe, permanent place to call home.
Give now to join our community efforts and help us raise $10,000 in 48 hours to ensure that our neighbors experiencing homelessness can stay healthy, safe, and informed during this time.
As a small thank you for your donation, you will be invited to an online coffee chat on Wednesday, May 6th at 10:30am featuring the following perspectives from the frontlines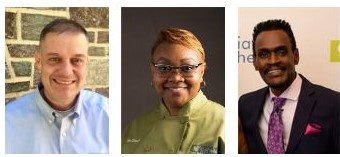 Scott Schenkelberg, President and CEO – Why closing was not an option
Cheryl Bell, Executive Chef – What it takes to keep meals going
Tony Burns, Advocacy Fellow – COVID-19's impact on guests and how to affect change
We hope you can join us!