What does Miriam's Kitchen mean to you?
In the pre-pandemic world, we would be gathering tonight for our 2020 Mission Possible gala to celebrate community, the resilience of our guests experiencing homelessness, and the progress we have made toward ending chronic and veteran homelessness in DC.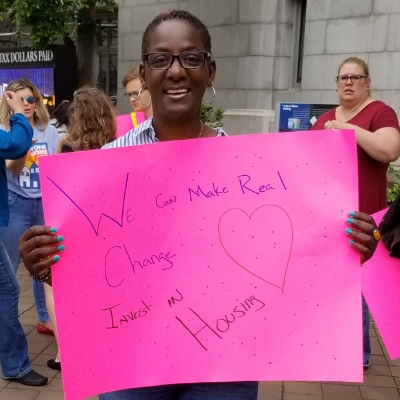 As part of the evening, we would have heard from our 2020 Dignity Honoree, Rhonda Whitaker. Rhonda is an ardent advocate for ending homelessness in her native District of Columbia. As a member of the Miriam's Kitchen Speaker's Bureau and a partner in our advocacy work, Rhonda consistently raises her voice to increase awareness about long-term homelessness and to call for proven solutions, such as Permanent Supportive Housing. Rhonda moved into her forever home on March 6, 2020—just before the coronavirus changed all of our lives.We asked Rhonda to share what Miriam's Kitchen means to her:
"Miriam's Kitchen paved the way for me, and others, to be housed… After living 20 something years on the street, I have peace of mind today. It was hard, yes it was hard, but I never gave up – and Miriam's Kitchen never gave up on me."
We look forward to presenting Rhonda with her award at next year's Mission Possible celebration. Until then, you can check out some of the highlights from
 last year's gala
 and hear more of Rhonda's story below: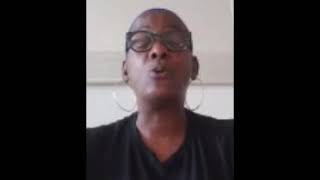 While we cannot gather in person, we hope to safely bridge the social distance by creating community online by asking you to share your story of what Miriam's Kitchen means to you—as guests, volunteers, donors, partners, neighbors, and more. Post your photos, quotes, or videos tagging @MiriamsKitchen and using the hashtag #MKcommunity.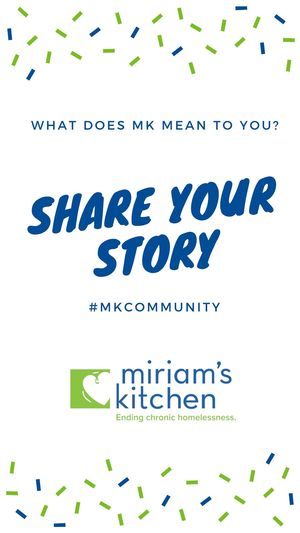 Twitter: @miriamskitchen
Instagram: @miriamskitchen
Facebook: /MiriamsKitchen
STREET SENSE MEDIA: "Finding a Place Called Home" by Sheila White, former Advocacy Fellow. :
​
"I became an advocacy fellow at Miriam's and learned how to organize and lead from a team of professionals. The staff I worked with for those six months are deeply caring and compassionate about serving homeless communities. I am so proud and honored to have worked with a fine group of men and women who put their life on the line to go out and help people experiencing homelessness every day, especially now with the coronavirus." Read the full article:  
https://www.streetsensemedia.org/article/housing-homeless-voucher-shelter/#.XsK1mGhKjIV 
DCIST: Homeless Residents in D.C. Face High Rates Of COVID-19 Infections and Deaths.  
"Gerard Skerrett, the director of street outreach at local nonprofit Miriam's Kitchen, says homeless residents are particularly vulnerable to COVID-19 because social distancing and other recommended practices are extremely difficult to maintain in congregate settings like shelters. 'It's almost like this virus was kind of custom-made to target people who are experiencing homelessness,' says Skerrett. 'Without a home, you can't socially isolate, you can't distance yourself from people, you can't wash your hands. … Housing is healthcare in this situation.' Read the full article: 
https://wamu.org/story/20/05/14/homeless-residents-in-d-c-face-high-rates-of-covid-19-infections-and-deaths-during-quarantine/